The time for cooking chicken wings depends on the method. If it is grilled, it's 30 minutes (15 for each side). Broiling takes 35 minutes and baking 40 minutes. Frying takes about 15 minutes.
Basic Cooking Tips
If you use the time periods suggested, there's no danger of overcooking or undercooking. But if the chicken is large, adding a minute or two may be necessary. To check, make a small cut with a fork. The meat should be white. If it's pink, give it more time to cook.
Ensure that the grease is already hot. If you're broiling, you can use a medium setting. Be sure to shut the lid while you're cooking chicken wings. If you bake at 350 degrees, it will only take half an hour. If you want it dark brown, let it bake for an hour or more.
A Clean Cooking Area
Poultry is susceptible to bacteria, so make sure it's in a clear
plastic bag or container. Don't forget to wash it before cooking. When you're finished, wash your hands before touching other food. It's also important to wash all the utensils you used.
Put any leftovers in the fridge. Leaving them at room temperature for longer than 45 minutes will spoil it.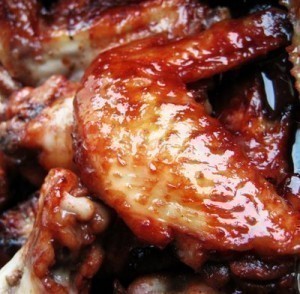 Deep Frying
A popular way of cooking chicken wings is deep frying. After deep frying, you can dip them in butter and hot sauce. The kind of red pepper to use is up to you. Most prefer red pepper although you can use others if you want.
For extra flavorings add some fresh celery to the mix. You can also throw in some blue cheese dressing. This is something you want to use if the hot sauce is too spicy for your taste.
Storing and Serving
If you are serving them as appetizers, here are a few things to keep in mind. When cooking chicken wings, a ratio of 5 to 6 wings per pound will be sufficient for each person.
If you won't be serving yet, put them in the freezer. It can be kept for a month. If the wings haven't been cooked, it can be stored in the freezer for nine months. Don't keep them any longer than that.
Re heating the chicken wings can be done on the oven. You can also use a chafing dish to keep them warm. Don't forget to cut off the wing tip when cooking. You also need to slice at the elbow joint. The wing tips can be used to flavor chicken stock so it doesn't get wasted.
Experimenting
There are many ingredients you can use. For spicy flavors add some black pepper or paprika. You can also add some chili and lime for something unique. There is also Buffalo Wings, which uses butter and peppery sauce dips.
Cooking chicken wings can be fun. Even a new cook will have little trouble preparing it. That it can be used with a variety of sauces is another benefit. With a little practice, you'll be able to concoct yummy treats in no time.
Related Articles on Cooking Chicken Wings