A wedding celebrates the day that two people promise to spend the rest of their lifetimes together. Weddings often include lavish ceremonies were family and friends of the bride and groom mingle with each other and party together. Often, people worry about what to wear on these occasions because they want to look, not just presentable but want to look their best. Hence, the question regarding what a guest should not wear to a wedding often becomes crucial.
Whenever one asks the question what should a guest not wear to a wedding, the answer is often slippers, shorts or casual shirts. But since the themes of wedding parties are continuously evolving, the absolute prohibition of casual attire is not necessarily the answer. There are numerous themes that range from the stiffly formal to flirty casual in wedding parties, and the theme depends entirely upon the bride and the groom.
Formal Wear
What a guest should or should not wear to a wedding, largely depends on the attire prescribed by the invitation. When the attire states that it is a black tie event, then casual clothes are strictly prohibited. Since most weddings require formal clothes for the party, respect the requirement and be dressed appropriately. This means that jeans, t-shirts, shorts, caps and other casual clothing are strictly prohibited for the black-tie event. Normally, coats and ties or tuxes for men and cocktail dresses for women are suitable for formal wear. So unless stated in the invitation, it is safe for men and women to wear ties and cocktail dresses respectively for the occasion.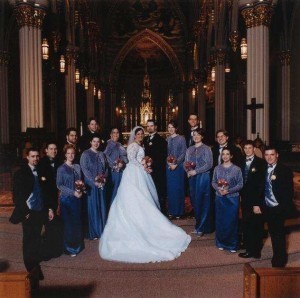 Theme Weddings
However, there are some wedding parties that consciously break away from established norms. These weddings can be held anywhere from beaches, yachts to maybe even on an airplane, depending on the budget and comfort of the bride and groom. For weddings such as these, it is good to think out of the box and try wearing clothes that may not be conventional. You could dress according to the theme and you can be your creative best when you are invited to these theme weddings.
Different Cultures
While trying to answer the question, 'What should a guest not wear to a wedding?', becomes an entirely different story when you deal with weddings from other cultures besides the western culture. For instance, in some cultures, wedding celebrations are held separately for men and women, and requires a culture-specific attire for women. So, the best way to handle this would be to do some research or make inquiries to the host about the appropriate attire.
So, it all depends on the wedding invitation. Just keep in mind that you should be dressed well and suitably for the occasion and you should look the part of someone who is ready to celebrate with the bride and groom while meeting other people as well. Also, it is best to wear something that does not take away the attention from the bride and groom—after all, it is their special day that is celebrated and not yours.
Keep the above mentioned simple points in mind and enjoy yourself in the next wedding party you attend! Do not steal the thunder of the bride and groom but at the same time, dress with care to look your charming best.
What Should a Guest Not Wear to a Wedding?

,