There are many ways to propose to your girlfriend. If you're strapped for ideas, the following should help you out.
A Romantic Getaway
You can do it when you're on vacation together. Try picking a memorable landmark. If you're in Paris, try it in front (or at) the Eiffel Tower. If you're in Thailand, at any of the fine beaches there. Just pick a good spot in the country you're in.
Don't mention anything to her. Just take her out like you're going sightseeing, then pop the question. You can pick a time when you're alone. Or you can ask her to marry you in front of people. Either one is very romantic.
At Home
If you can't propose to your girlfriend on vacation, you can always do it at your / her place. Have one of her friends take her out shopping or to the movies. Put flowers in the bedroom (or any room you want to do it in). Have them all over the area. Add some candles and put on some music. When she arrives, lead her to the room and ask for her hand.
Sweet and Simple
It doesn't have to be fancy at all. You can take a simple stroll in the park with her. While walking, you can just ask her hand. It doesn't need to be anything extravagant. It's in the way you say the words to her that matter. When you propose to your girlfriend, do get down on one knee. It is old fashioned, but it is very romantic.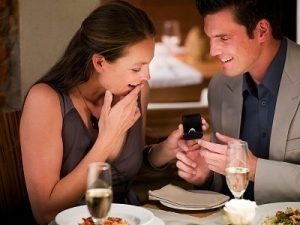 On the Seas or in the Skies
You can also pop the question while cruising on a ship. If you'd rather do it up in the sky, you can try a hot air balloon. It's easy enough to find one these days. Just get on one and while up there, you can get down on your knee and propose.
In a Restaurant
Of course, you can also do it in a fancy restaurant. Having a romantic candlelight dinner is always effective. Just don't let her know about it. It helps if you've had dinners like this before so she won't know. If you want to propose to your girlfriend this way, act casually when you ask her for dinner.
Where it All Began

Take her to the place where you first met, or where you went on your first date. It can be the beach, a park or it could be anywhere. Go with her on a nostalgic trip back. Try to remember the times and how much your lives have changed. Then you can let her know of your true intentions.
On Special Occasions
You can pop the question on Valentine's Day, Christmas or the Fourth of July. By doing it on these occasions it will call for a double celebration. You can pop the question while watching the fireworks. Or you can propose after giving her a present or a bouquet of flowers.
However you propose to your girlfriend, remember to do it boldly and with conviction. By letting her know exactly how you feel, it'll be an unforgettable day.
How Should I Propose to My Girlfriend

,